Add a FREE
link on to your own web site
---

If you would like to add a link to ALC Health on to your website, we now offer two standard buttons. These not only help to highlight your partnership with us, but also ensure that you are kept advised of everyone who uses your site to buy ALC Health international health insurance cover online.

We offer two standard buttons that can be downloaded directly to your site, but if you would like something a little more bespoke, then do get in touch and we'll do what we can to create something that little bit extra special.


This is the Button you can use on your website: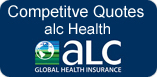 In order for us to create the Custom code for you please select you Broker ID from the following dropdown


News and Features
ALC Health has entered into a 'reverse branch' agreement with ...
ALC Health, an IMG company is pleased to announce the ...
International Medical Group (IMG ®) is pleased to announce that Kevin ...