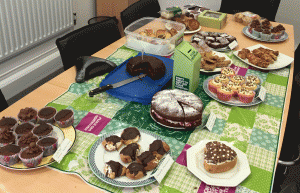 Yesterday saw ALC Health's UK Head Office turn into a magical bakers shop with an amazing display of cakes and biscuits home baked by our more creative and talented colleagues as part of Macmillan's biggest fundraising event of the year.
ALC  was delighted to be able to join thousands of other people across the UK who have been holding coffee mornings to raise money for those living with cancer by raising desperately needed funds to support the valuable work and support given by the Macmillan Trust.
Cancer is the toughest fight most of us will ever face. and as treatments improve, more and more people are living with cancer in their daily lives. The money raise at this and other events held nationwide will help make sure no one has to face cancer alone, from the moment they're diagnosed, through treatment and beyond.
Well done to everyone involved and for helping to replace those extra pounds lost a few weeks ago.