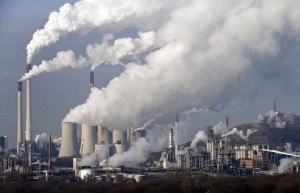 The levels of air pollution in many of the world's cities fail to meet the World Health Organisation's safe guidelines, according to the urban air quality database. Air pollution which exceeds recommended guidelines puts people at risk of respiratory disease and other health problems.
According to the report, issued this week, only 12 percent of people living in the cities which measure air pollution are breathing air which meets the quality guidelines. About half of the urban population being monitored by WHO is exposed to urban air pollution which exceeds the recommended levels by at least 2.5 times.
WHO's urban air quality database covers 1,600 cities across 91 countries – 500 more cities than the previous database (2011), revealing that more cities worldwide are monitoring outdoor air quality, reflecting growing recognition of air pollution's health risks.
In cities where there is sufficient data to compare pollution levels today with those from previous years the situation is getting worse. WHO attributes this to many factors, but highlights fossil fuel use, dependence on private transport, insufficient energy use in buildings, and the use of biomass for cooking and heating.
The countries with the highest annual mean levels of PM2.5 (fine particles with a diameter of less than 2.5 micrometres) are Pakistan, Qatar, Afghanistan, Bangladesh, and Iran. However, half the 20 cities in the world with the highest PM2.5 levels are found in India. Delhi has the highest levels, 153 micrograms per cubic metre (ug/m3), in the world. This is six times the WHO "safe" level of 25 ug/m3.
Surprisingly, no Chinese cities ranked in the top 20 worst cities. Beijing, often in the news for its bad air quality, reported 56 ug/m3 and Chinese politicians have this year declared a "war upon pollution" write expathealth.org
In April 2014 WHO estimated that outdoor pollution was responsible for the deaths of some 3.7 million people under the age of 60 in 2012. The Organisation also highlighted outdoor and indoor air pollution as one of the biggest combined health risks worldwide.
The report notes that individual cities can take local action to improve air quality and thus go against regional trends. And good air quality can go hand in hand with economic development, as indicated by some major cities in Latin America which meet, or approach, the WHO air quality guidelines.