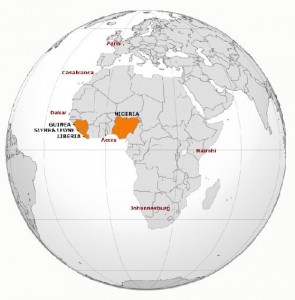 A third person has tested positive for Ebola in Dallas, Texas. The most recent two are healthcare workers providing direct care to the initial Ebola patient from Liberia who has since died. They are in stable condition and in isolation in the same facility. No secondary cases related to the original case among the general public, close contacts or fellow travelers have appeared.
While authorities are actively investigating why healthcare workers who claimed to follow strict precautions became infected, there is considered no risk to the general public. Though the latest case had taken a flight within the U.S., because she had no symptoms during her trip, she was not considered infectious at that time. Authorities however are notifying and tracking passengers on that flight.
Immigration authorities have implemented strict screening for passengers arriving from West Africa at the 5 US airports receiving 94% of travelers from this region. Meanwhile the CDC is working with healthcare facilities nationwide to implement strict training and precautions to identify and isolate any potential Ebola victims. While authorities are vigilant to identify any new cases and mitigate the risk of spread, the situation in the U.S. is not considered a risk to travelers or the public at large.
Many countries are implementing health control points at airports for passengers arriving fromWest Africa. This is already the case in Czech Republic, United King dom and France.
In Latin America, the health ministers of the nine countries of the Bolivarian Alternative for the Americas will meet on October 20 in Havana to prepare for a possible Ebola outbreak in the region.
Now more than ever, we strongly recommend avoiding or interrupting all travel to the countries of Guinea, Sierra Leone and Liberia, as there is no certainly there are no resources to support medical and non-medical needs, including for non-Ebola situations in these countries and exiting these countries on an urgent basis is becoming increasingly difficult.
Despite this serious situation, AXA Assistance will continue to carry out its mission of assistance provider in accompanying all its customers and mobilize its resources to support all requests for assistance, including from this devastated region.
Cai Glushak
International Chief Medical Officer