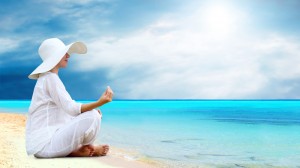 As the spiritual home of healing, Asia is an ideal choice for a detox holiday to cleanse your body, clear your mind and improve your overall well-being. To help you along the way and ensure you get the very best out of your healing escape, Health and Fitness Travel, the UK's leading specialist in healthy holidays worldwide, handpicked some of the best detox holidays to be found across the exotic continent we know and love as, Asia. Whether you take detox holidays on a regular basis or are looking to try out your first, Health and Fitness Travel's tailor-made holidays combine a variety of holistic spa treatments, fitness activities and healthy detox diets, for a personalized life-changing experience that will have you 'spring-cleansing' year after year writes the healthytravelblog.com
Thailand: Absolute Sanctuary Detox With lush rainforests, beautiful beaches and crystal clear waters, Thailand is the perfect place to detox, de-stress and relax away from the worries of modern life. Using a combination of detoxing drinks and natural spa therapies, the tropical oasis of Absolute Sanctuary offers guests a range of holistic wellness programs to boost your well-being revival. Heal your body with up to 4 detox drinks a day, together with coconut juice and unlimited broth soups; all designed to improve your digestion and leave you feeling re-enerzised. Also renowned for its comprehensive yoga holidays, Absolute Sanctuary provides a selection of disciplines across multiple classes every day, to complement your detox.
Bali: Como Shambhala Detox Holiday Renowned for its idyllic landscapes and rich cultural heritage, heavily influenced by the Hindu- Buddhist ideals of spiritual well-being, Bali is an ideal choice for a destination detox holiday. Cleanse your body of toxins with a choice of healing therapies and a diverse menu of fresh and nutritional detox cuisine at Como Shambhala. Take advantage of the multi-award winning spa and indulge in luxury treatments, designed to help remove an accumulation of harmful toxins from your body. Meals at the resort's restaurants can be personalized to your specific detoxing goals and tastes, so you can improve your body's natural defense system while enjoying mouth-watering and healthy Asian-inspired cuisine.
India: Ananda Detox As the birthplace of yoga and holistic Ayurvedic spa treatments, it should come as no surprise that some of the best detox holidays in the world can be found in inspirational India. Set in the foothills of the Himalayas, Ananda's beautiful scenery adds to the healing power of the resort's detox program. Structuring their programs to address all areas of holistic healing, Ananda provides the key to an effective detox with treatments to improve blood circulation and the efficiency of the lymphatic system. Rejuvenate with healing treatments including mountain dew skin facials and detoxifying salt scrubs, alongside daily wellness classes performed with stunning views of the scenic backdrop.
Philippines: The Farm Detox Formed of over 7,000 islands, boasting lush rainforest and secluded beaches, many of the Philippines sparsely inhabited islands provide the ideal retreat for a detox escape. Cleanse your body and restore balance to your life with a detox holiday at The Farm. Tailor your escape with a range of cleansing treatments combined with award-winning raw vegan cuisine to leave you feeling renewed and revitalized. Consultations with a medical doctor and personal trainer will not only help you achieve your goals, but also set you up to improve your lifestyle and nutritional choices after you return home.  
Guest Author: Health and Fitness Travel Health and Fitness Travel is a global luxury wellness travel company that originated in the UK in 2010 and is committed to providing healthy holidays that enhance and change lives. Created by Paul Joseph and Adam Heathcote as a result of their passion for health and fitness travel and offering bespoke holidays to improve people's well-being to lead happier and healthier lives.    
Health and Fitness Travel offers clients a tailor-made seamless service with the very best health and fitness holidays, handpicked by its expert team, together with exclusive and added value packages with the best deals. As leading specialists, Health and Fitness Travel has also created their own collection of trademark healthy holidays in various destinations which include Fusion Fitness™ BodyBreaks™ and Discover Recover™, offering clients the best value and holiday experience. For more information visit: www.healthandfitnesstravel.com